Gold Gilding Repair
For intricate frame work, we use special molding products to fill and mold the existing sculptural elements. This is followed by gilding and glazing to blend the mold into the surrounding surfaces. Finally it is finished with protective clear coats.
Wood Repair
Wood Repairs consists of special wood epoxies and layers of high quality oils followed with protective clear coats.
Plaster Repair
Water damage plaster repair consist of multiple layers of paint to color match and replicate the patterns surrounding the damaged areas.
Electrical Faux
These electrical outlets were color and pattern matched to blend into their surroundings. Zoom into the photo by clicking on the info button on the top right corner to experience the exquisite details. Lanakila Creations can turn everyday items into works of art.
Marble Faux on Plexiglass
Faux treatment of plexiglass sheets turn it into marble. Lanakila Creations is able simulate marble from various quarries, Carrara and Sienna marble from Tuscony, Parian and Pentelic marble from Greece and etc.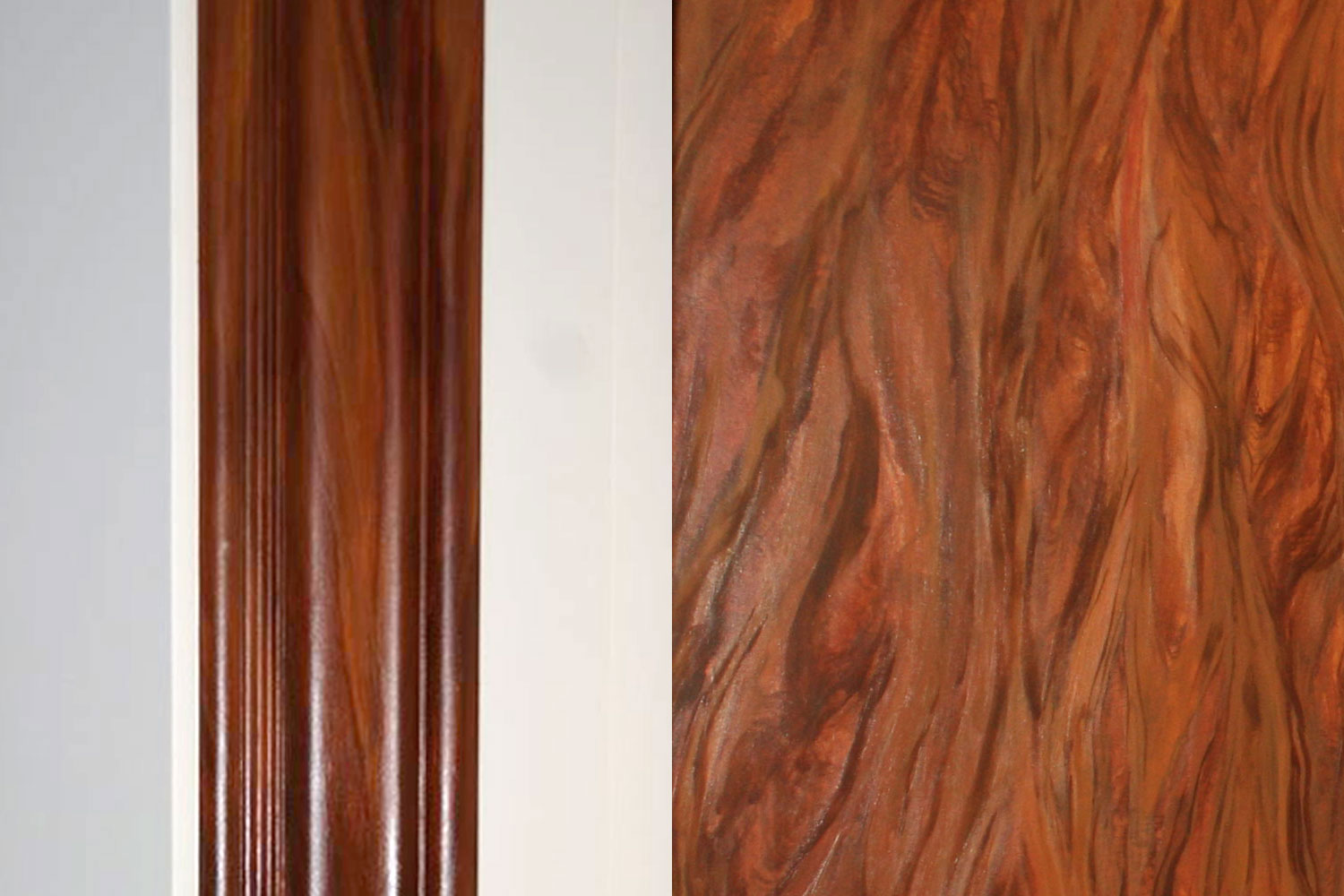 Wood Faux
Wood faux can be applied to crown molding and plywood doors to transform them into pieces of precious woodwork. Lanakila Creations specializes in wood of faux of precious Hawaiian hardwood such as koa, kiawe, mango and monkey pod.
Koa Faux
This is an example of koa wood faux applied to a ceiling beam. The before and after photos show the beauty that Lanakila Creations can bring into a space.
Wall Faux with Mural Accent
Subtle mural accents combined with faux effects instill refinement and charm to a room. Positive and negative space intertwine much like ferns and vines do in Lanakila Creations's murals.
Quartz Faux
Faux effects can be applied to entire rooms. Quartz plaster faux can bring a sense of elegance to a room.
Wine Quartz Faux
Faux effects can replicate quartz plaster of any type of quartz.
Contemporary Glass Installation
In collaboration with Rick Strini and First Glass, we created this unique modern take on traditional Hawaiian imagery by using contemporary materials.
Palladium Painting
Gilding with palladium creates a beautiful reflective and luminous effect. High quality oils over the palladium background magnifies the movement and depth with change in lighting and perspective.
Self Portrait Bronze
With the assistance of the University of Hawaii at Manoa Art department, Lanakila made a mold of her face and hand with plaster of Paris. Lanakila created the composition by pouring sculptural wax. A mold was made off of the finished wax sculpture and finally molten bronze was poured into the mold. This was followed by extensive preparation and finalized with cupric and ferric patina.
Bronze Face
The abstracted form comes to life with a candle placed inside of the bronze mask.
Gold Gilding
Lanakila Creations combines old-world traditional techniques with genuine gold leaf to create spectacular gilt surfaces. Any surface can be gilded such as ceilings, canvases and frames.
Restoration and Repairs
Lanakila Creations provides flawless restoration and repairs of artwork, wood work, frames, doors, plaster and etc. We have experience repairing on various surfaces and developed techniques to make the blemishes and damage disappear.
Restoration and repairs comprise of multiple processes depending on the surface and materials involved.
Lanakila Creations collaborates with stone resurfacers, painters, and contractors to make sure the repair is properly protected and maintained.
Faux
Faux finishing replicates exotic woods, granite, marble and tile over different surfaces. The finish can make electrical outlets disappear into your walls and wood pillars to emerge along the ceiling. Large wall treatments bring a subtle mural element to your room. The possibilities are endless with impeccable control of color, texture and layers. Custom samples are prepared for each project.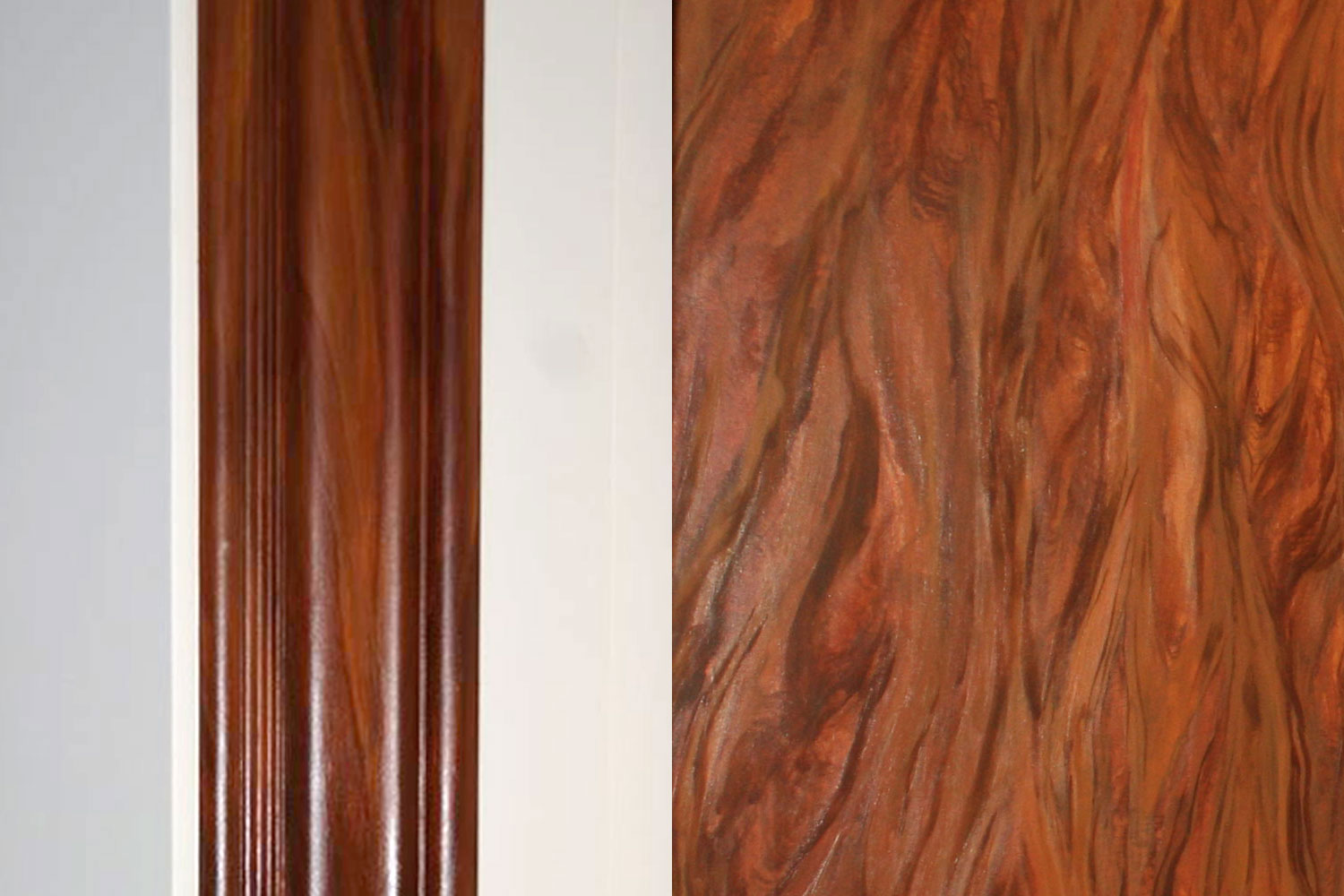 Glass Installations
We have developed techniques to paint on multiple surfaces of art glass and star fire crystal clear glass sheets. Translucent glazes combined with layers of glass create a deep glowing appearance. Together with a licensed glass installer, the painted glass can be used for shower walls and sculptural inlays.
Palladium
Palladium is a precious metal that will not tarnish. Gilding with this precious metal creates a beautiful reflective and luminous effect. High quality oils over the palladium background magnifies the movement and depth with change in lighting and perspective.
Bronze
Displayed here is a portfolio of bronze lost wax casting technique.
We design and collaborate with bronze fabrications local and abroad to create custom sculptures, water features, gates, and railings.